Update: I decided to return the monitor because the latency was too high. Latency is the time that passes between moving your finger and seeing a reaction on screen. This was somewhere between 150 and 180ms which made the device unusable for research purposes.
Please welcome our latest addition to our Interaction Lab at Augsburg University of Applied Sciences, a 84″ multitouch display with a motorized stand which can be transformed into a table, a tilted table and a wall.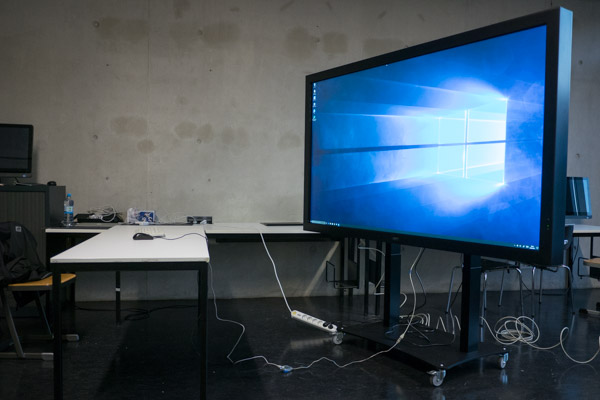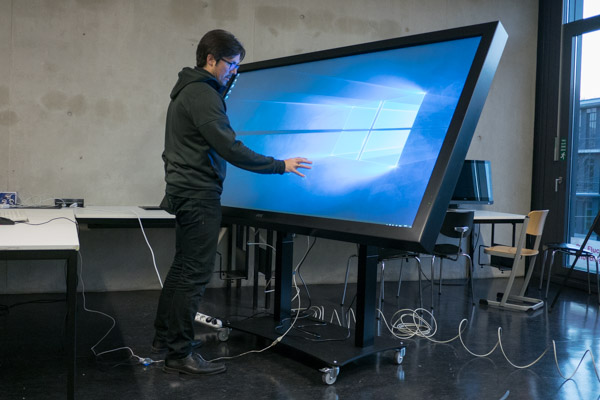 The monitor is part of a research grant called Labor zur Erforschung und Entwicklung von Interaktionsmodellen mit Virtuellen Realitäten (laboratory for research and development on interaction models for virtual realities) by Rose, Müller, Rothaug, Kipp which is funded by Hochschule Augsburg.
We intend to investigate the question of how efficiency and ergonomics of multitouch interaction can be measured to compare various input modalities (mouse, controller, gesture, touch). See the publications below to get an idea of our goals and methods. The new display allows to extend our previous work to large display sizes and multi-party scenarios.
Some technical data:
84″
4K resolution (3840×2160)
50 touch points
Related Publications
Lehmann, Florian (2016) Ergonomie von Multi-Touch Oberflächen, Bachelorarbeit, Studiengang Interaktive Medien, Hochschule Augsburg. | Bachelorarbeit |Präsentation | Poster | Read the blog post about this work
Nguyen, Q., and Kipp, M. (2015) Where to Start? Exploring the efficiency of translation movements on multitouch devices. In: Proceedings of 15th IFIP TC 13 International Conference (INTERACT), Springer, pp. 173-191.
Nguyen, Q., Kipp, M. (2014) Orientation Matters: Efficiency of translation-rotation multitouch tasks. In: Proc. of CHI 2014. Link to Video.